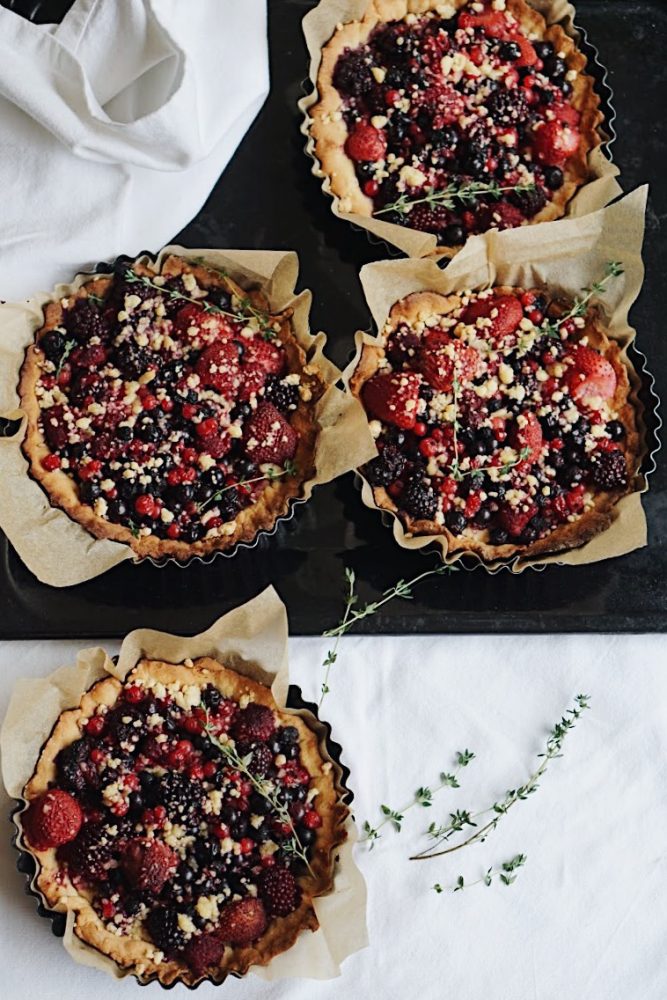 Hi there, welcome once again to the blog! I really like cooking, and most of all desserts. That's why today I wanted to share with you my favourite forest fruit crumble pie recipe. I hope you'll like it!
INGREDIENTS
FOR DE PRINCIPAL DOUGH
• 200gr of flour
• 90gr of icing sugar
• 100gr of tepid butter
• 1 egg
FOR THE CRUMBLE DOUGH
• 35gr of brown sugar
• 60gr of flour
• 50gr of cold butter
FOR THE FRUIT SALAD
• a generous quantity of berries
• lemon juice
• thyme
• honey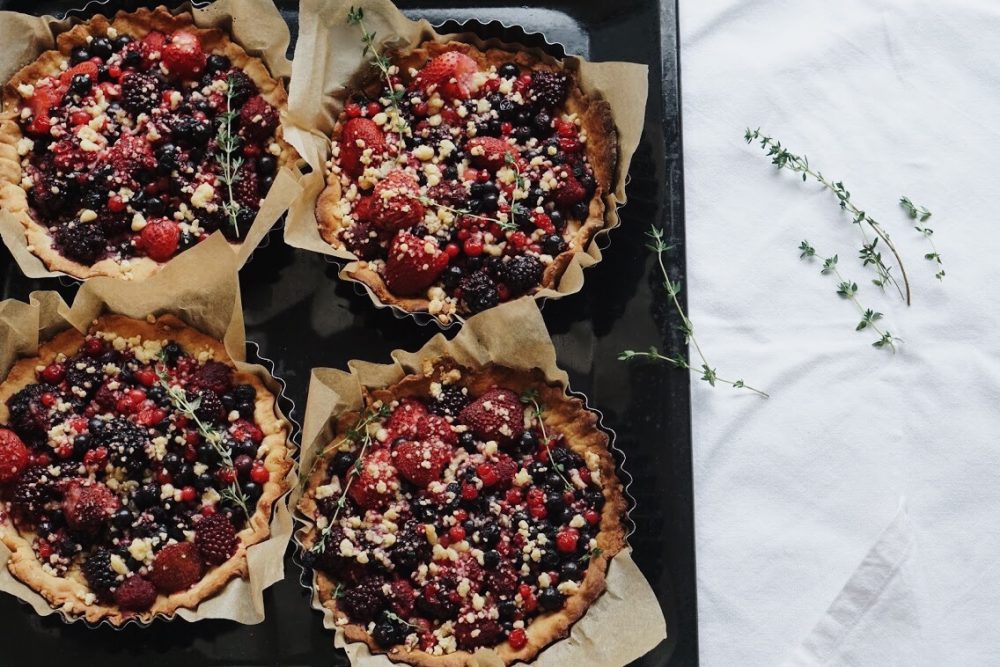 RECIPE
PREPARE DE DOUGH
Mix de flour and the sugar into a big bowl. Add the slightly melted butter and mis again until you have a texture close to sand. Then, add the egg. Make a ball with the dough and put it into some alimentary film and let it rest for an hour into the fridge.
Put on the oven on 180°C (350°F), sprinkle some flour on the table you're cooking on and spread the dough on a thickness of 3mm. Put it into the bottom of the cake pan, put another baking paper on top of it and add an alimentary weight (like salt, beans,…) Let's get into the oven for 20min.
PREPARE DE FRUIT SALAD
Mix all your berries together in an other bowl and add some lemon juice, thyme and honey. Let it into the fridge until the next utilisation later in the recipe.
PREPARE DE CRUMBLE
Mix, with your fingertips, the sugar, the flour and the cold butter until you have (again) a texture close to sand.
LAST STEPS AND FINAL COOKING
Oncethe first 20min of cooking are over, put all the fruit salad on the precooked dough an sprinkle then the crumble. Put it back in the oven for 25min.
And voilà! I hope you'll try this recipe at home and that you will like it. See you soon in a next post,