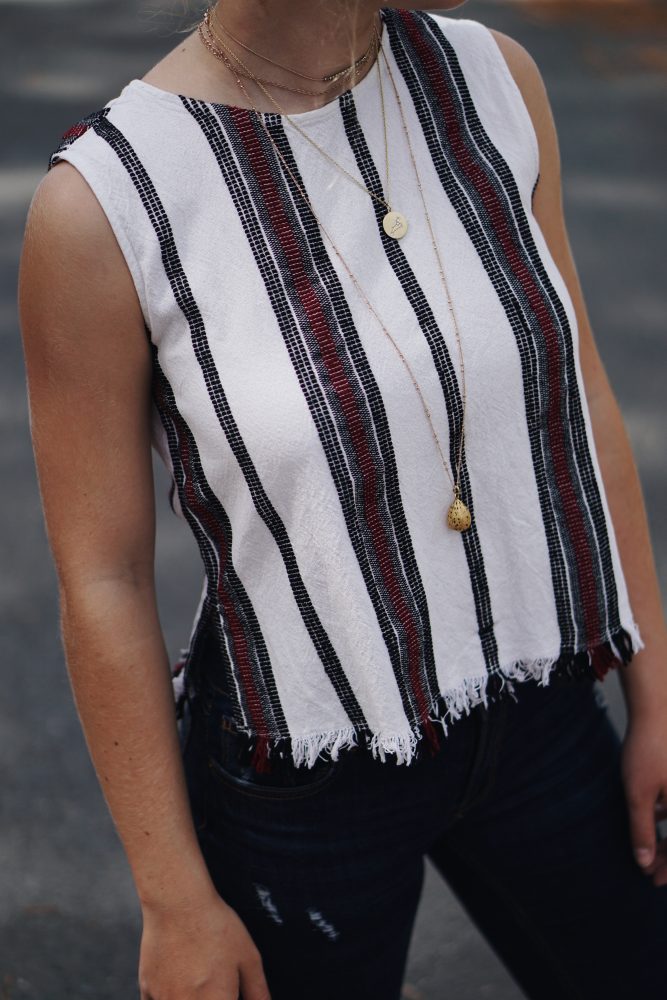 Hi there, welcome back to my blog! I hope you enjoyed a lot this summer, I can't believe it's already finished! What I'm about to say will sound obvious having a fashion blog but I love buying clothes! Today I wanted to share with you this very simple outfit for "back to school" (l'm having a heart attack) I hope it will inspire you and that you will enjoy it.
First, you need to know that it bought most of the items in Spain. I have been shocked by the sales there, I swear I never saw that before. I went to Mango and in the part "very very small prices" I founded this beautiful top for only 13€. I really like the bohemian spirit and I think that the stripes give an original touch to an outfit as simple as this one.
I am also very happy I founded this pants. They are from Bershka and they fit perfectly! I am not that tall so when I buy new jeans, if I want them to fit well on the hips, they usually are to long. I don't know if the sizes change from a country to another but if you are not tall either I strongly recommend you this model!
Let's talk about my jewels. I won't believe you if you say that you didn't see the layering necklaces trend. And it's just that I love it! But the most difficult part was to find different necklaces because the prices grow really fast… These ones are the ones I found ; Both chokers are from Stradivarius. They actually were sell together in a pack. The constellation necklace from the middle, which I talked about in a previous article, is from Pilgrim (I will link everything below). And for the longest one, I could say he's unique. I got the Arabic pendant (pas sure ) from my (arrière grand mère). The pendant has no chain so I went to a cheap jewels shop to buy one. I will try to link it too. And voilà! I'm really happy with the result but I am sure other necklaces will get to enter in my little collection.
SHOP THE LOOK
Top | MANGO
Jeans | BERSHKA
Sneackers | CONVERSE (get -20% by subscribing to the newsletter)
JEWELS
Chokers | STRADIVARIUS (both in the same pack)
Constellation necklace | PILGRIM (via Zalando)
Long necklace | SIX (No E-shop available)