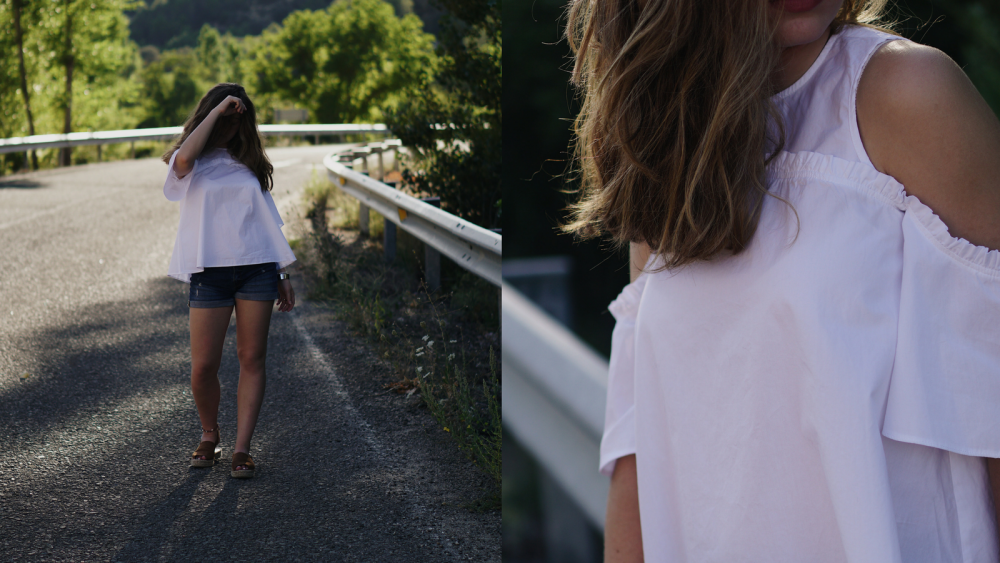 Hello everybody, welcome back on the blog! After the cold temperatures in Norway, it's time to enjoy the sun in Spain. I recently made some orders and I wanted to share some of those clothes in this look.

I ordered this beautiful blouse on Asos. I actually was looking for a cold shoulder blouse and this one was at -50%. So I directly added it to my shopping cart.
I also ordered this espadrilles on a Spanish e-shop called Alohas Sandals. When I was younger I used to wear espadrilles a lot and this year, I don't know why, I wanted to wear again. I have been looking on lot of websites but I didn't find any pair that completely convinced me. Then, I saw this ones, and it was love at first sight! I didn't know that brand actually but they have amazing sandals! The only negative point is that they are really expensive… I got mines on sales with -20% which was not bad at all. They fit perfectly and they are just beautiful, aren't them ?
My shorts are from America Today. I bought them like 2 months ago and I really like them because they are short without being to short. I mean ; I am not comfortable wearing mini shorts. These ones are long enough so that they don't move, and I don't have to pull on them all the time.
SHOP THE LOOK
Blouse | Asos
Short | America Today (Only available in France and Belgium)
Sandals | Alohas Sandals
Jewels | Thpshop (The brand is having a break,
they don't sell jewels anymore)